Design variation at the service of aeronautics
In aeronautics, it is essential to provide energy solutions that combine power and lightness in order to ensure the correct and constant power supply to all the electronic components of the system. At Premium PSU we don't settle for approximate solutions, and in our latest projects for the aeronautical sector, we have successfully challenged the limits of our standard products to meet our customers' needs. Find out how below!
The challenge
Aircraft communication systems do not use the same frequency as domestic systems (50-60Hz). Aircraft electronic components operate under different frequencies, traditionally 400Hz. The AC is usually generated through an alternator under a three-phase system at 400Hz, allowing for smaller transformers. This translates into using reduced size and weight energy conversion systems, as less energy is stored in the transformer core per cycle. These features are especially positive in aircraft and Premium´s ability to modify standard solutions to fit the needs of each project was the reason the customer chose us to carry out the project. The Challenge: powering communication equipment through a 400Hz Inverter.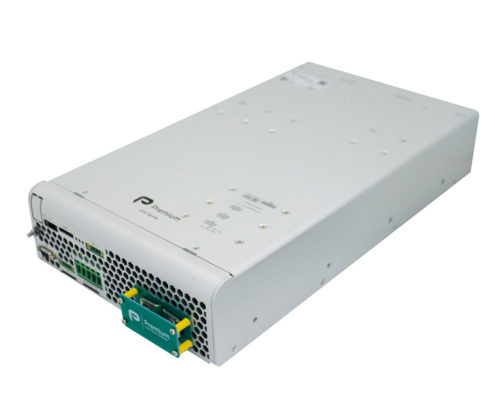 Powering the challenge
At Premium PSU we found the almost perfect solution for this challenge in our ODX-6000 three-phase DC/AC inverter. Designed for industrial and transportation markets, it stands out for its robust design, in addition to its high power density, efficiency up to 94.3%, and compliance with safety standards.
Our wide experience in customizing our Inverters was responsible for tunning the features of the ODX-6000 to turn it into a great solution for this application. Our R&D engineers successfully adapted the input and output in order to operate at 400Hz, a frequency eight times higher than its usual value. The project also required specific EMC (electromagnetic compatibility) testing, which took place in the semi-anechoic chamber in our own facilities.
The assessment
The achievement of this challenge in the aeronautical sector highlighted once again the excellence of Premium's know-how. As this is a specific energy solution that is difficult to find in a standard catalogue, the customer relied on our 40 years of experience and more than 900 custom-made designs to transform one of our most reliable inverters into a powerful and robust product that fits perfectly to their specific needs. At Premium PSU, our customer's satisfaction and these kinds of achievements make us proud and encourage us to continue developing power electronics of the future. Thank you for your trust!
Need more information?