AC/DC High Efficiency System – FlexStorm
Premium PSU's High Frequency FlexStorm Series offers the flexibility, reliability and power density that industrial environments require.
With over 40 years of experience, Premium PSU is a specialist in the design of efficient, robust and safe power solutions. Increasing efficiency, generating value and offering solutions that guarantee maximum use of energy and resources are key. With the new line of AC/DC rectifier systems, Premium PSU continues to focus on providing greater speed, new features and high efficiency to power electronics projects.
AC/DC Rectifier System – New ThyriStorm
ThyriStorm, our latest addition to the AC/DC rectifier system family, emerges as an unrivaled power supply solution, leveraging state-of-the-art 4.5 and 6.5kW Thyristor Technology.
Recognizing the paramount importance of uninterrupted power in the industrial sphere, where downtime equates to substantial financial losses, we have harnessed the intrinsic robustness and enduring power control capabilities of thyristor technology. ThyriStorm is underpinned by thyristor semiconductor devices, which serve as the cornerstone of this rectifier system. These devices, as proficient power control elements, afford not only unwavering durability but also a low maintenance solution.
SUB Stations: high and medium voltage

Control & signaling centers
Where could be used AC/DC Rectifier Systems?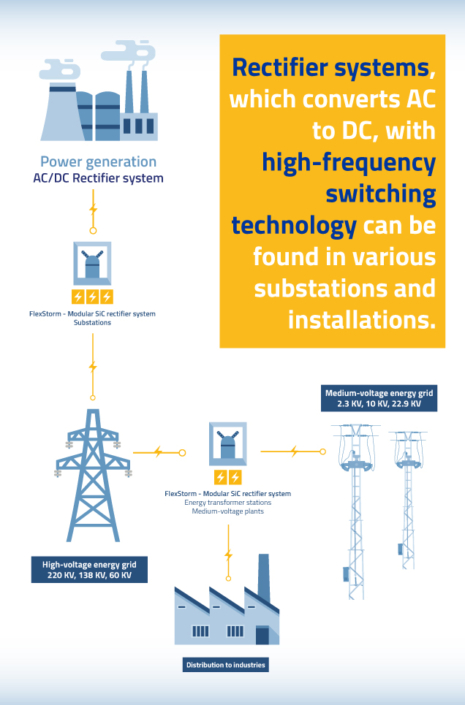 Why using FlexStorm Series?
Here are some benefits to it:
1

The new high frequency solution

2

2

3

4

Compact and robust design

4

5

Configurable redundant systems N+N
Do you have a project in mind where a FlexStorm Series might fit?
Contact us to see how we can help you develop the solution you need:
At Premium PSU, we are specialists in designing and manufacturing power conversion systems for the industrial market. Our product range includes high reliability power supplies from 50W to 72kW.
PREMIUM PSU
C/ Dolors Aleu, 19-21, 2nd Floor
08908 – Hospitalet de Llobregat
Barcelona-SPAIN
t.+34 93 223 26 85
Born in Barcelona Powering the World