Powering H2 fuel cells – Defining the future of energy generation

Due to its many advantages, among which zero emissions stand out, the fuel cell is beginning to position itself as an alternative for the generation of sustainable energy. In this process, power conversion systems are essential to shape new applications using clean energy sources based on hydrogen.
The versatility of hydrogen makes it possible to produce direct current through a fuel cell and be used as a generator; a combination that allows for the development of multiple applications. One of our customers, an innovative start-up, contacted us with the objective to find a solution capable of transforming the variable output voltage of a hydrogen fuel cell to successfully power a fleet of industrial vehicles.
To carry it out, the help of our team was essential. Although at the beginning the possibility of making a custom design was considered, we were finally able to avoid the development of a custom solution and save the added costs that this could imply. Two standard products from our product portfolio, with low weight, compact size and subject to regulations, made it possible. This is how we did it.
The Challenge
The fuel cell offered a power of 2.5 kW but a very variable output voltage range (30-60 V). One of our main challenges for this project was finding an inverter with a wide input range that would be ideal for the fuel cell. It was essential for the solution to comply with shock and vibration certification in addition to the certification for electronic equipment used on rolling stock.
Powering the Challenge
The conversion and the constant cooling and control system were made possible by two solutions that today work together with the fuel cell itself. On one hand, the ODS-3000-7155T 48Vdc/230Vac DC/AC inverter allows the direct current produced by the 2.5 kW hydrogen cell to be converted into an alternating current. The ODS-3000 series has been designed for applications that offer pure sine wave output voltages and its selectable output frequency, versatility, and adjustable output voltage have made it ideal for this project.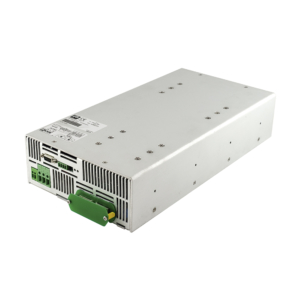 On the other hand, the CTS-240-6661D 48Vdc/24Vdc DC/DC converter provides power to the fuel cell control by activating the solenoid valve and the hydraulic pump. With this, it is now possible to supply the load that consumes alternating current with a fuel cell that produces direct current, which in practice, contributes to making operations more efficient, economic, and sustainable.
The assessment
The fact that our solutions meet certifications, offer a wide range of input voltages and the compact and low weight of our solutions was a key decision-maker for the customer to start working with Premium.
To us, the follow-up of all projects is necessary, essential, and broadening. A process that allows us to ensure that the solution rigorously meets all objectives. Something that, in this case, has led us to generate new synergies that open new opportunities to continue creating state-of-the-art custom energy conversion systems. We are confident that our ability to develop custom and make variations on standard solutions, will allow us to readapt the current projects to fit even better with market needs and offer a solution with excellent added value. 
Can't wait to keep on Powering Your Challenge!
https://premiumpsu.com/wp-content/uploads/2021/03/h2-fuel-cells.jpg
560
840
Nal3 Comunicació
https://premiumpsu.com/wp-content/uploads/2022/07/premium-logo.png
Nal3 Comunicació
2021-03-15 16:19:32
2022-06-16 06:51:39
Powering H2 fuel cells – Defining the future of energy generation