A versatile DC/DC converter for more efficient micro-mobility

At Premium PSU, we have recently helped to promote an innovative micro-mobility project to charge electric bicycles. Do you want to know how? Promoting sustainable mobility is a priority and a challenge for the smart cities of tomorrow. 
To achieve it, the advanced vision of companies and the design of groundbreaking energy solutions are becoming crucial. In this process, using natural resources intelligently, cost-effectively, and efficiently is the goal of power electronics.
The challenge
There is a growing presence of electric vehicles in urban areas. Providing versatility and expanding the possibilities of electric sockets is becoming a necessity. This was the challenge a European innovative pilot project was facing, where charging posts for electric bicycles used alternating current. The engineering team of the project was faced with the need to drive a change to enable DC charging. To achieve this, they needed to find a converter that would go from 750V to 24V, using direct current. Something that is still not a common thing in the market nowadays.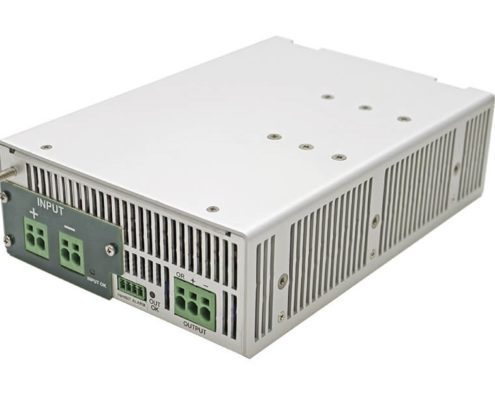 Driving the challenge
One of our latest products from our DC/DC converter portfolio has enabled us to meet the challenge. Specifically, the network feeds a three-phase rectifier (3×400), which converts to 750V. From there, and thanks to Premium PSU´s CVS-280, the 750V becomes 24V. The result is versatility, safety, and a discreet cable section. Pure dynamism at the service of micro-mobility.
We designed the CSV-280 to meet the needs of the railway market, being aware of the huge capabilities that the solution can offer in other areas. After this project, Premium PSU reaffirms the incredible versatility of the CSV-280 when it comes to being part of other types of applications.
The assessment
Contributing to the use of versatile and cleaner power sources for micro-mobility opens up new horizons for urban commuting, and we are proud to be able to offer solutions that will lead to this positive change! We are convinced that the implementation of this pilot test will be an enormous success. Thank you for making us part of it, we are ready to face the next challenge!
Need more information?
https://premiumpsu.com/wp-content/uploads/2021/07/83313310_s.jpg
565
848
Nal3 Comunicació
https://premiumpsu.com/wp-content/uploads/2022/07/premium-logo.png
Nal3 Comunicació
2021-07-26 12:18:14
2023-01-10 14:43:36
A versatile DC/DC converter for more efficient micro-mobility