A safe line DC for medium-voltage substations

Medium voltage installations are a critical part of the electrical distribution system and having reliable protection is vital, as is communications. At Premium PSU we have faced the challenge of providing a safe DC line to the protections and communications of medium voltage substations.
A custom-made solution and a team of engineers with the necessary experience have made it possible.
The challenge: safe line for medium-voltage substations
In medium-voltage installations, one of the parts of the transformer operates with high voltages so for this project, it was necessary for the device to be able to withstand pulses of 10kVac and 20kVac for 1.2 / 50μs from the active parts to GND. In addition, it required isolation between the 2.5kV and 1kV DC outputs between the Ethernet terminals and the alarms.
Regarding software development, the solution had to have an Internal web portal (with its own IP) that would carry out communications through slow networks. When working with slow networks, all the data that goes through the charger to communicate with the customer's machine must be light, an issue that became one of the main challenges for Premium.
In addition, the reduction in size and weight compared to the solution that the customer already had was an improvement to take into account.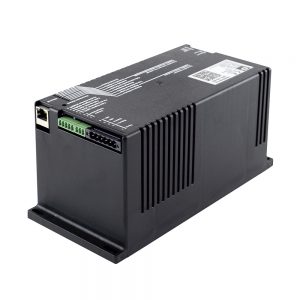 The solution
Through a customized solution in Premium PSU, we were able to create a device that integrates both needs, both a battery charger and a rectifier, thus avoiding two design costs and obtaining a compact and reliable solution.
The certification
In addition to product development, the different certifications that the application required, from mechanical and climatic (such as humid and dry heat, temperature variations, shock and vibrations tests) and EMC (radiated and conducted emissions and immunity) to insulation tests, have been carried out.
Thanks to our strict quality control, we guarantee that all devices that go out to the market have passed dielectric strength tests. A 10kV insulation test is carried out on all units manufactured, something that is not very common and with which we are able to guarantee extra reliability.
Obtaining a powerful solution that responds to the needs of the industry is our greatest satisfaction. With this new customized solution, the customer can control changes, product evolution and the design's useful life. As a result, at Premium PSU we guarantee better control of operating costs and optimization of available resources with a web server with a simple and minimalist design. We will be delighted to face a new challenge together!
Find out more
Looking for an uninterruptible power supply that doubles as a battery charger? The EPS series has been specially designed for the applications of Industry 4.0, IoT and smart grids.
https://premiumpsu.com/wp-content/uploads/2021/12/case-study.jpg
627
1200
Nal3 Comunicació
https://premiumpsu.com/wp-content/uploads/2022/07/premium-logo.png
Nal3 Comunicació
2021-12-21 15:39:23
2022-06-15 14:45:45
A safe line DC for medium-voltage substations