What is a semi-anechoic chamber?

What is an anechoic chamber?
An anechoic chamber is a piece of equipment used to test sound or electromagnetic radiation emitted by equipment or systems. It is usually made of a combination of materials, such as tiles and damping foams to absorb and refract sound waves. They are also available for testing electromagnetic compatibility (EMC), which is the ability of a device not to interfere with other devices within a given frequency range. They are used to test the electromagnetic noise emission levels of new prototypes and electronic components in a controlled environment for accurate testing. Hereinafter only EMC anechoic chambers will be referred to.
An anechoic chamber is an enclosure shielded from external interference and designed internally to dampen reflections of RF electromagnetic waves. Specially designed walls and ceilings are used to absorb these electromagnetic waves and prevent them from reflecting into the chamber. The result is a space free of external electromagnetic waves, where the internal electromagnetic waves are absorbed rather than reflected.
What does a semi-anechoic chamber look like?
The word 'semi-' indicates that it is only partially RF absorbing and the reason is that the floor of the chamber is reflective rather than absorbing.  This is to simulate the real world in the open field; OATS (Open Area Test Site). The radiated emission limits are intended to limit the amount of interference the device can cause to another product or transmitter. In the real world, a product will generally "see" an electromagnetic wave in direct line of sight, in addition to a wave reflected off the ground or nearby walls.
The semi-anechoic chamber is considered equivalent to an OATS if its NSA (Normalized Site Attenuation) is within ±4 dB between 30 MHz and 1 GHz. The standards state that measurements inside a semi-anechoic chamber should be made by placing the receiving antenna 3 or 10 m (and sometimes up to 30 m) away from the equipment under test (EUT).
An important feature of the semi-anechoic chamber is the absorbing material covering its walls and ceiling. This material may consist of smooth ferrite tiles and/or elongated pyramids of treated foam or other materials. The pyramid shape hinders the direct reflection of waves at higher frequencies.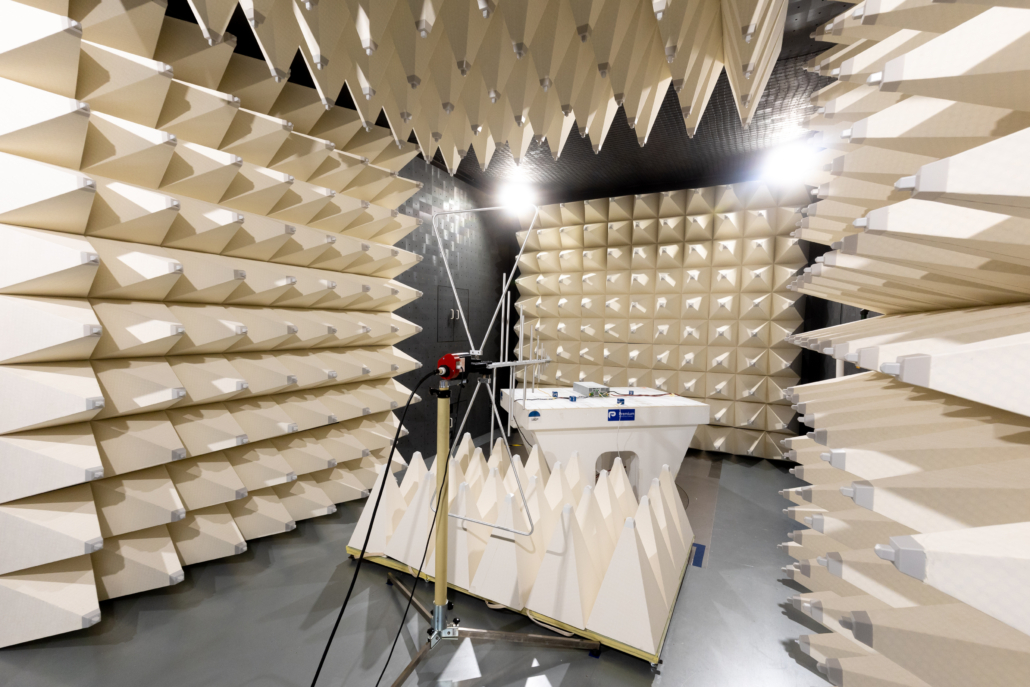 What is the function and use of a semi-anechoic chamber?
Today's industry uses semi-anechoic chambers to perform EMC tests according to various published EMC standards.
The fields of application are varied: consumer electronics, automotive, aerospace, military, medical, telecommunications, research and development and others. Different organizations around the world develop and publish standards, resulting in different requirements and consequently different types of chambers.
Semi-anechoic chambers have mainly two uses:
– Measurements of radiated emissions: To measure the electromagnetic radiation emissions of the EUT to check that they are within the limits set by the applicable standard.
– Tests of radiated immunity : Subjecting the EUT to an electromagnetic field according to the applicable standard and checking that the ESE works according to the acceptance criteria indicated by the same standard.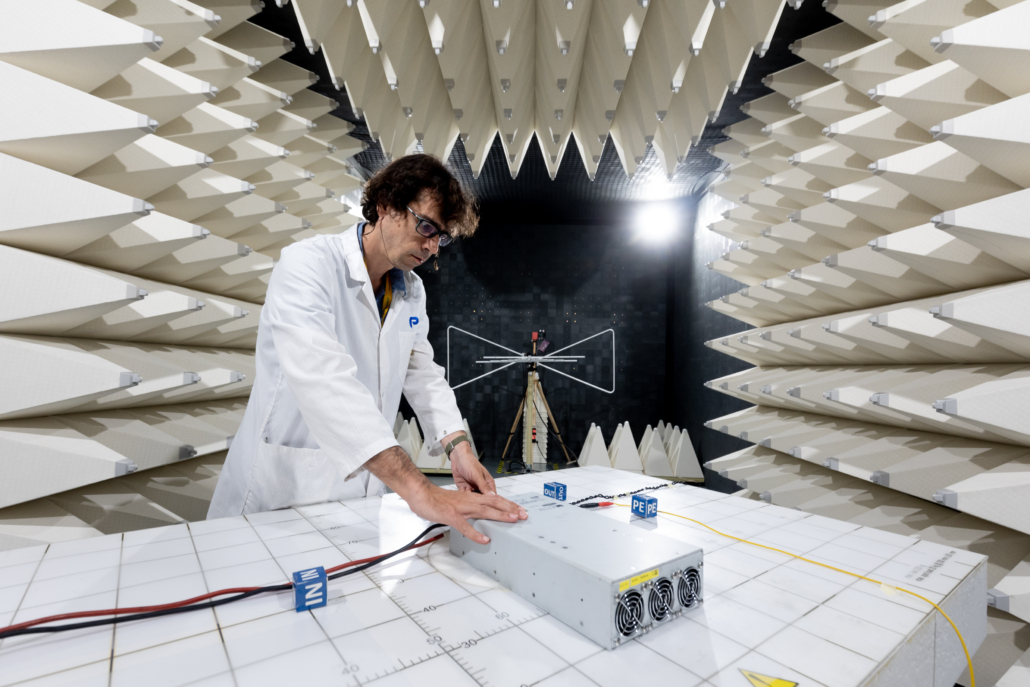 What value does semi-anechoic chamber bring to Premium PSU?
Our semi-anechoic chamber is suitable for products within different sectors such as industrial, railway and energy. In all of them, power electronics plays an important role with converters, inverters, and uninterruptible power supply systems, in fact the semi-anechoic chamber has the following features:
– Measuring distance up to 3m.
– Frequency range of the chamber from 26 MHz to 18 GHz.
– Receiver system with a frequency range of 9 MHz to 7 GHz.
– Generator system with a frequency range of 30 MHz to 3 GHz.
– For DC equipment up to 1000V 300A and AC single-phase or three-phase up to 400V 63A.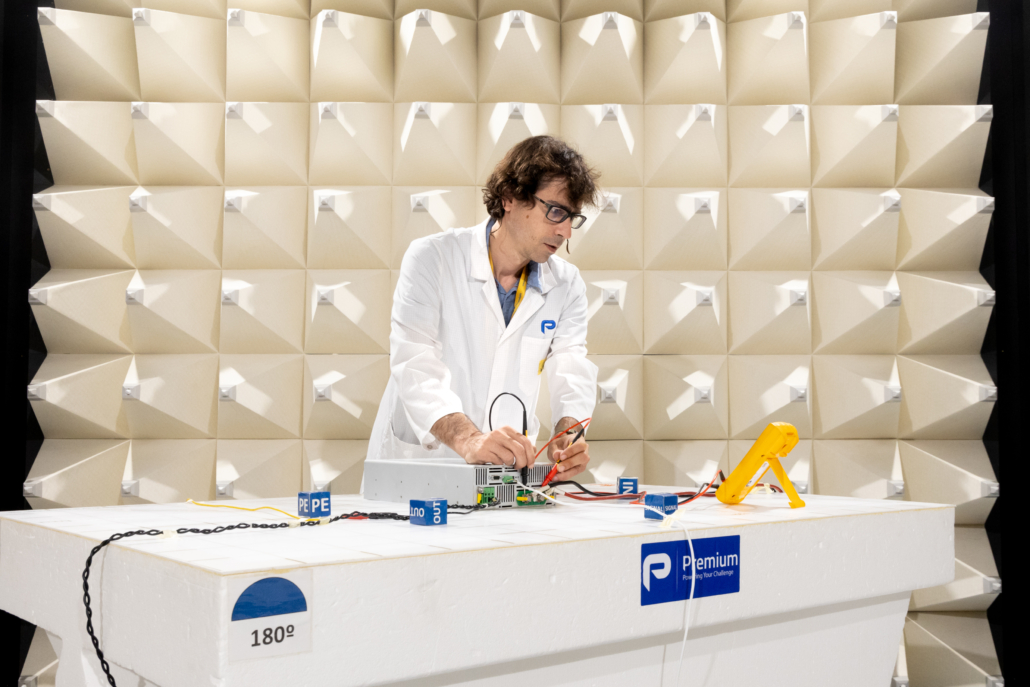 Components included in our semi-anhecoic chamber
– Remotely controlled turntable, antenna position and polarization, and video monitoring system.
– Fiber optic coupled signal monitoring system.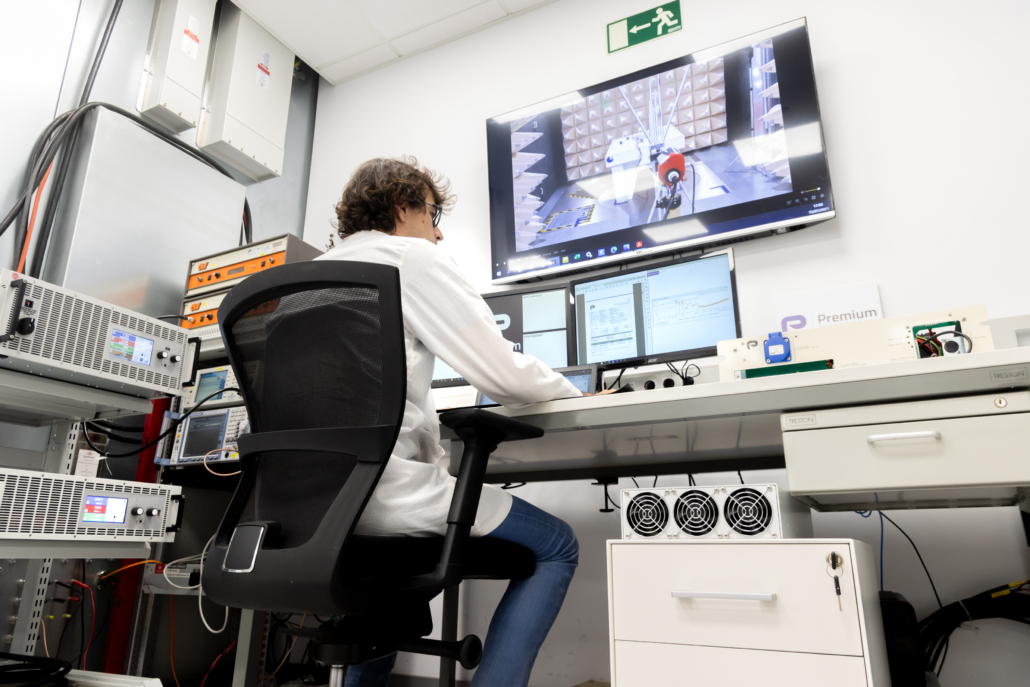 At Premium PSU, as a power electronics manufacturer, having our semi-anechoic chamber enables us to:
– Faster designing, having a high availability of this facility.
– In the long term, reduce designing costs with not using external laboratories.
– Higher quality, in addition having this facility gives us access to carry out more tests and look for better alternatives, as well as meeting standards.
– Be more agile with changes, product modifications, or approval of new EMC-related components.
– Help customers solve EMC problems in our facilities without the need for third parties and intermediaries.
https://premiumpsu.com/wp-content/uploads/2023/03/semianecoic-chamber.jpg
627
1200
Belinda
https://premiumpsu.com/wp-content/uploads/2022/07/premium-logo.png
Belinda
2023-03-21 15:36:00
2023-11-27 12:37:44
What is a semi-anechoic chamber?