The process of the custom-made projects in power electronics [ Infographic ]
In the industry, reliable power supply solutions are critical for safe and efficient operation. Here is where Premium PSU comes in, offering innovation to cover all needs for these markets. Premium PSU has been providing reliable power electronic converstion systems for the main companies of the energy, railway, and high-tech sectors since its early days.
Since then, the company has continued to develop and manufacture limited series of completely custom-made products, meeting the specific needs of its customers.
One of the key factors that Premium PSU has apart from its competitors is its commitment to innovation. The engineer's team is constantly researching and developing new solutions to meet the ever-changing demands of three main markets (railway, energy, and high-tech). This dedication to innovation has resulted in the development of advanced products that provide superior performance and reliability.
Premium PSU's expertise in power electronics extends to a wide range of applications, including rail traction systems, data centers, substations, and rolling stock among others. The company's product portfolio includes DC/DC converters, DC/AC power supplies, battery chargers, AC/DC rectifier systems, and custom-made products, all designed to meet the specific needs of each market.
In addition to its innovative products, Premium PSU is committed to providing exceptional customer service. The company's team of experts works closely with customers to understand their specific needs and provide tailored solutions that meet their requirements.
Overall, Premium PSU's dedication to innovation and customer service has made it a leader in the power supply market. As the demand for reliable power supply solutions continues to grow, Premium PSU is well-positioned to continue providing innovative solutions that power the future of the industry.
What are the key steps involved in initiating a new project that requires a custom solution?
There are four phases when initiating a new project with a custom-made power solution. Although, we have some custom projects that begin with a standard product, with few requirements, and in shorter times.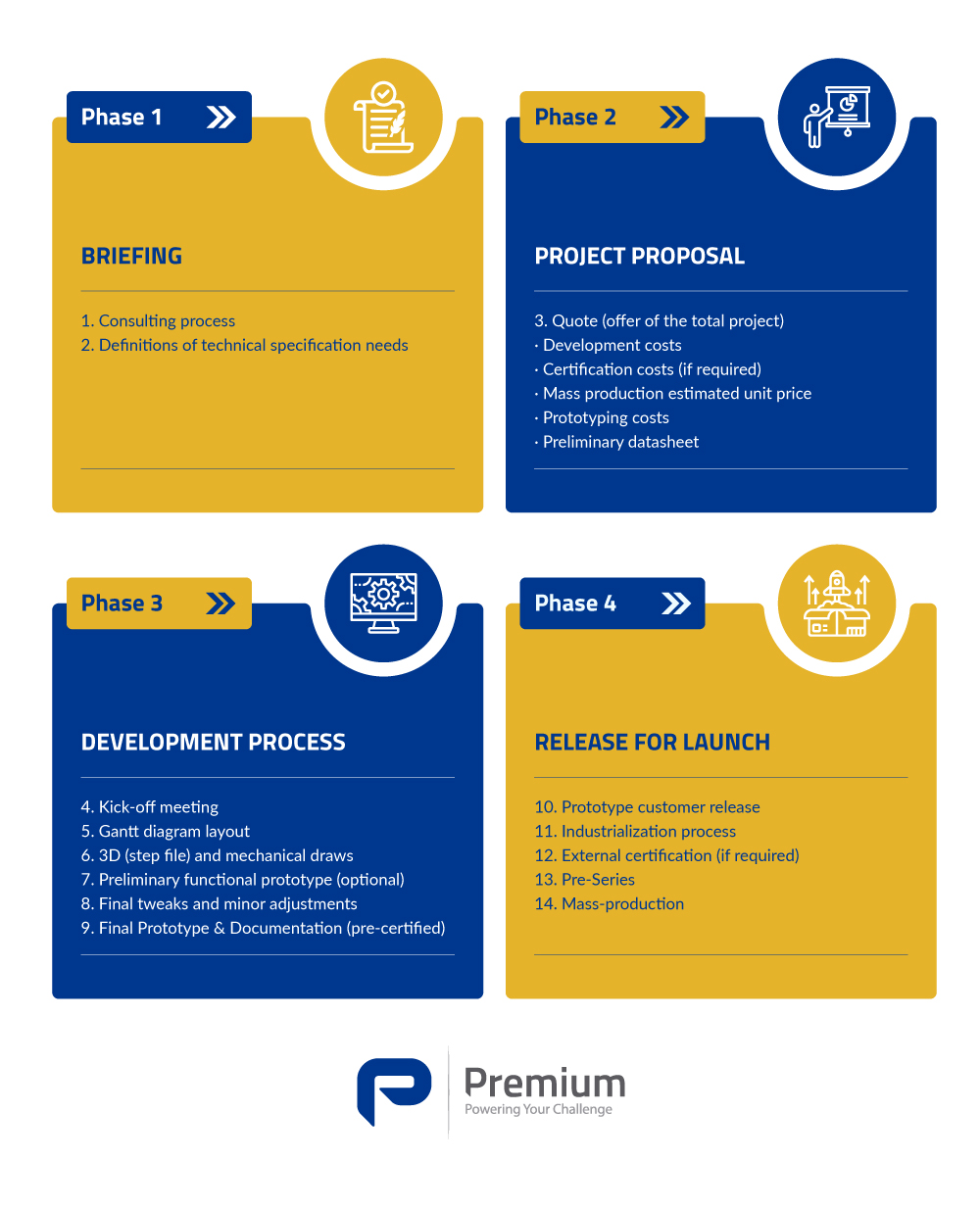 What are the advantages and benefits of creating a custom product?
Developing a custom product can offer several benefits for businesses operating in main industries like railway, energy or high tech.
Firstly, the product is unique and belongs only to the customer, providing a competitive advantage over competitors. This can be particularly important in markets where differentiation is key to success.
Secondly, when a custom product is developed, the supplier can guarantee a steady supply of the product. This ensures that the customer will not face any obsolescence surprises or supply chain disruptions, which can be costly and time-consuming.
Thirdly, a custom product can evolve as the customer's needs grow and change. This is particularly important in the fast-paced and ever-changing in some industries, where new technologies and trends are constantly emerging. By working closely with a supplier to develop a custom product, businesses can ensure that their solutions remain up-to-date and meet their customers' evolving needs.
Finally, developing a custom product can add value to the final solution and differentiate it from the competition. By tailoring the product to the specific needs of the customer, businesses can provide a more comprehensive and effective solution, leading to higher customer satisfaction and loyalty.

Developing a custom product can offer significant benefits for businesses operating in each industry. From guaranteed supply and flexibility to differentiation and added value, a custom product can help businesses stay ahead of the curve and meet the evolving needs of their customers.
Why choosing a customized solution?
Choosing a customized solution from Premium PSU can offer several advantages for businesses looking to address their unique requirements. With more than 40 years of experience in the industry, we have a team of over 50 engineers who can deliver state-of-the-art designs that are tailored to meet the specific needs of their clients.
Take a look at these examples of some custom products:
By opting for a custom product, businesses can ensure that their solution is built from scratch, offering complete control over the design and development process. This enables businesses to incorporate features and functionalities that are not available in off-the-shelf solutions, giving them a competitive edge in the market.
Additionally, Premium PSU offers affordable Non-Recurring Engineering (NRE) charges, making it a cost-effective option for businesses looking to develop a custom product. Overall, choosing a customized solution from us can help businesses achieve their unique requirements while ensuring high quality, reliability, and cost-effectiveness.
https://premiumpsu.com/wp-content/uploads/2023/05/custom-made-project-process.jpg
560
840
Belinda
https://premiumpsu.com/wp-content/uploads/2022/07/premium-logo.png
Belinda
2023-05-22 08:23:02
2023-05-23 08:19:54
The process of the custom-made projects in power electronics [ Infographic ]