Floox by Premium PSU introduces the DC charger Lyra 60

On Saturday, October 7, the world of electric mobility was set abuzz at the Circuit de Barcelona-Catalunya with the exciting launch of the Lyra 60 DC charger, a game-changer in the electric vehicle fast-charging industry. This charger, developed over two years by the Floox team at their facilities  promises to reshape the landscape of electric mobility.
Innovation Made in Barcelona
The fast charger Lyra 60 is an astounding engineering achievement that proudly bears the label "Made in Barcelona." A team of over 15 engineers dedicated 24 months to design 100% proprietary hardware and software for this charger. According to Jordi Gazo, CEO and founder of Floox by Premium PSU, it is a testament to the company's commitment to disruptive innovation, local production, and decarbonizing the planet.
"It's a point of pride to say that we have developed the most compact 60kW fast charger on the market, and we've done it 100% in Barcelona" Gazo stated. He emphasized the importance of having a fast-charging infrastructure to drive sustainable mobility, and in this regard, the Lyra 60 represents a significant step forward.
Impressive Technical Features
Weighing approximately 80 kilograms and with dimensions of 1124 x 588 mm, the Lyra 60 is a compact giant. What makes it even more impressive is its ability to charge 80% of a vehicle's battery in an estimated time of 30 to 42 minutes, providing a range of approximately 250 kilometers.
The Lyra 60 will be available in two versions: a compact wall-mounted model and an autonomous pedestal version. Both offer the option of simultaneous charging for two vehicles, making it a versatile and efficient solution for charging stations.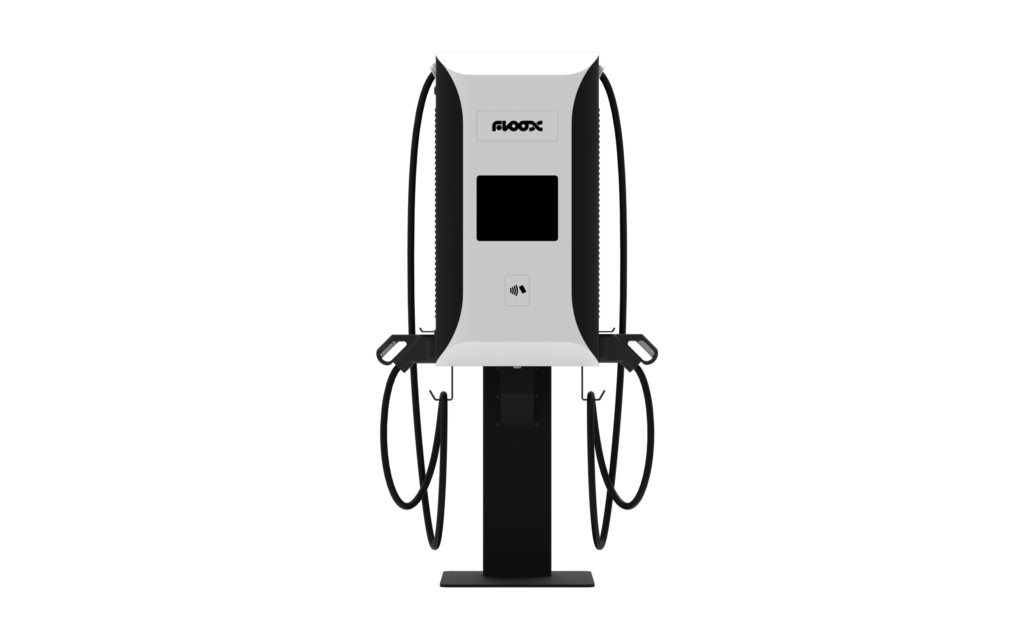 Future Steps
Following the unveiling of the Lyra 60, the validation and certification phase is underway, with subsequent plans to industrialize charger production. Crucially, production will be localized in the Barcelona area, reinforcing Floox's commitment to the local community and sustainable economy.
The development of the Lyra 60 was made possible through the support of Premium PSU, the leading energy conversion company with over 40 years of experience. This intrapreneurship project was born with a mission to promote the use of renewable energy sources and the transition to a sustainable mobility, economy, and society.
Initial results are promising, as Floox by Premium PSU sold one and a half million euros' worth of fast and ultra-fast chargers in its first year in the market. This positions the company with the necessary expertise for the successful launch of the Lyra 60 in 2024.
Floox by Premium PSU
Floox's Lyra 60 DC charger is a milestone in electric mobility that promises to revolutionize how we charge our electric vehicles. With a compact yet powerful design and a commitment to sustainability and local production, this product stands out as an exemplar of innovation in the fast-charging industry. The future of electric mobility looks brighter thanks to advancements like the Lyra 60.
Undergoing a generational shift in its trajectory, Premium PSU has recently aligned its strategy around four core pillars: investing in talent, professionalization, fostering innovation to create value, and maintaining a customer-centric focus. This strategic approach has empowered the company to pioneer cutting-edge power electronics solutions, ensuring perpetual readiness to tackle future challenges.
Premium PSU's product portfolio includes DC/DC converters, DC/AC inverters, AC/AC variable frequency drives, and AC/DC uninterruptible power supplies (UPS), spanning a power range from 50W to 72 kW. These products are meticulously developed in Barcelona and subjected to rigorous testing to guarantee adherence to the highest quality standards. Their applications find a strong presence in demanding markets such as railway, energy, and industrial sectors.
Over the course of four decades, Premium PSU has cultivated distinctive expertise, resulting in a comprehensive catalog of standard solutions and over 900 customized designs. This extensive range of offerings not only optimizes costs but also expedites delivery times, all while upholding unwavering standards of robustness and reliability.
https://premiumpsu.com/wp-content/uploads/2023/10/lyra60-ev-charger-floox-by-premiumpsu.jpg
560
840
Belinda
https://premiumpsu.com/wp-content/uploads/2022/07/premium-logo.png
Belinda
2023-10-26 12:56:29
2023-10-26 13:23:07
Floox by Premium PSU introduces the DC charger Lyra 60