Different frequency voltages with a DC/AC Inverter in Railway

In search of optimizing its railway maintenance operations, our client was facing a technical challenge. In this article, we delve into this project designing a DC/AC Inverter to provide a solution to work with different power supply frequencies. Alex Avila – Sales Development Manager – explains this success story where one of our standard solutions comes into play.
Alex, What were the customer's objectives?
This time our customer is a company dedicated to rolling stock, designing and developing solutions for the laying, maintenance, and control of railway tracks and catenary.
In this project, our customer needed to power from batteries several electrical devices with different frequency requirements (50Hz vs 60Hz).
Alex Avila – Sales Development Manager
What problems did he want to solve?
Some devices required 50Hz to operate while others needed 60Hz, i.e. they needed different power supply frequencies. Meaning to use two different DC/AC inverters they would have increased weight, space, and costs.
What is the application for our products? Where will it be installed/located? What will its function be?
The equipment that Premium PSU has developed for this customer is located on board the train and can feed 50Hz and 60Hz machinery from batteries. Changing the output frequency of a simple command (sending voltage to the J4 input) in the inverter.
Why did you choose us?
Our flexibility in designing a custom-made product was the key to their decision. We adapted to the needs of the customer's project, adapting our standard DC/AC Inverter ODX-6000 so that it already incorporates this function (activatable via DIP-Switch-7 (SW1)).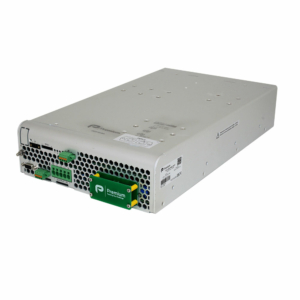 How has the Premium PSU solution impacted the customer's objectives?
Very positive because instead of needing two inverters, they have been able to solve the problem with only one inverter. Now, with this equipment, they simply have to send a signal to the J4 connector and the inverter output changes from 50 to 60Hz or vice versa, depending on the needs of the load to which he wants to connect.
https://premiumpsu.com/wp-content/uploads/2023/07/frequency-voltage-inverter-railway.jpg
560
840
Belinda
https://premiumpsu.com/wp-content/uploads/2022/07/premium-logo.png
Belinda
2023-07-05 18:30:36
2023-07-03 11:48:54
Different frequency voltages with a DC/AC Inverter in Railway