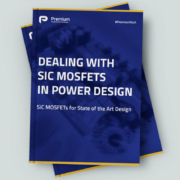 In our new #PremiumTech series today we show you the advantages of using SiC MOSFETs in power design, what challenges it entails and how it is crucial if we seek to maximize efficiency.
Do you want to stay up to date with our news?
Be the first to know about new product announcements, white paper releases and much more

By submitting you accept Premium SA using your data according to our
data protection policy
. You can change preferences or unsubscribe at any time.