Caso de éxito · Industria High Tech
Inversor trifásico 

para alimentar brazo robot 

montado sobre 

AGVs
Los robots industriales 

muy utilizados en entornos de automatización 

y líneas de montaje

 

se 

alimentan

 con tensión trifásica industrial 3x400V

ac

. Esto no es un problema cuando se usan en emplazamientos estáticos

 conectados a la red

. S

in 

embargo,

 la cosa cambia cuando 

el cliente decide montarlos sobre un AGV

 (vehículo 

autoguiado típicamente

 eléctrico

 usado en entornos 

de almacenes inteligentes

).
The Challenge
Nuestro cliente, un fabricante de AGVs de última generación alimentados por baterías de litio de alta capacidad (48Vdc de tensión nominal), decidió lanzar un nuevo modelo de AGV con brazo robot embarcado. El reto consistía en poder entregar al robot los 3x400Vac de tensión industrial con la potencia necesaria partiendo en este caso de los 48Vdc de las baterías. La mayor preocupación del cliente era si nuestro inversor DC/AC ODX-3000 sería capaz de soportar los picos de corriente que su robot necesitaba al hacer los movimientos más exigentes en términos de potencia.
Powering The Challenge
Nos desplazamos con uno de nuestros ingenieros del equipo de RDI a las instalaciones de nuestro cliente con un inversor ODX-3000 estándar de entrada 48Vdc y salida 3x400Vac. Llevamos con nosotros los equipos de medida necesarios para hacer la prueba: osciloscopio, sondas de tensión, sondas de corriente, cable USB-RS232 y PC para registrar de forma continua todos los datos.
Juntamente con el cliente preparamos la prueba, alimentando al robot a partir de las baterías de litio por medio de nuestro inversor DC/AC y solicitando al robot los movimientos más exigentes. Mediante el software que incluye nuestros inversores, pudimos monitorizar en todo momento la tensión de entrada, salida y corrientes de salida guardando los datos para analizarlos a posteriori. En paralelo tomamos varias capturas de osciloscopio mirando el detalle del perfil de carga del robot en los momentos de mayor carga.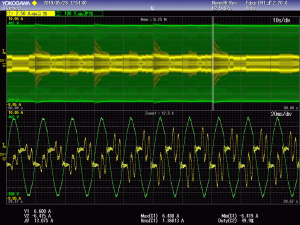 Finalmente concluimos que nuestro ODX-3000 cubría ampliamente las demandas de potencia del brazo robot de nuestro cliente, que terminó homologando el producto para su aplicación.
Descubre todas las características técnicas del inversor DC/AC ODX-3000.