Caso de éxito · Ferroviario
Inversor trifásico de alta tensión de entrada para sistemas HVAC ferroviarios exigentes
Los sistemas ferroviarios para material rodante generalmente se alimentan o bien de la tensión de batería (típicamente: 24V, 36V, 72V o 110V) o bien de la corriente alterna trifásica suministrada por el convertidor auxiliar de alta potencia. Sin embargo, en proyectos en los que hay que renovar y actualizar un tren antiguo, pueden surgir muchas peculiaridades.
The Challenge
En este caso, nuestro cliente necesitaba alimentar un sistema HVAC (ventiladores y compresores) con una línea de voltaje atípico de 500 Vcc +/- 2%. El reto consistió en diseñar un nuevo y versátil inversor trifásico para ser utilizado en dos subsistemas independientes: suministrar energía a compresores HVAC de 3.2kVA y alimentar los ventiladores de impulsión. En ambos casos tenía que poder ajustar la tensión y la frecuencia de salida y, lo más importante, la entrada tenía que soportar 500Vdc.
Powering The Challenge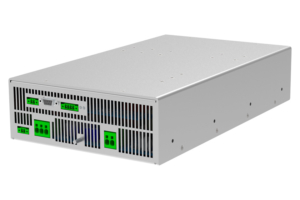 Diseñamos un inversor ferroviario de 3.2kVA de acuerdo con la norma EN50155:2017 y largo ciclo de vida útil. El producto incluyó una entrada de 500Vdc y una tensión de salida configurable (de 200Vac a 460Vac y de 5Hz a 60Hz), señales de control remoto, alarmas, rampas de arranque suave y programación RS-232. Basándonos en nuestra experiencia en el diseño y fabricación de inversores trifásicos robustos, pudimos ofrecer un diseño de producto a medida cumpliendo con un calendario ajustado y alcanzando unos costes de desarrollo competitivos.
Durante la fase de diseño y a través de reuniones de seguimiento con nuestro cliente, descubrimos que el conjunto del sistema contemplaba utilizar contactores y relés entre el inversor y el motor para poder cambiar la configuración de Estrella a Triángulo y así poder tener dos velocidades de motor diferentes. Sugerimos no usar todos estos componentes, conectar el motor directamente al inversor y controlar la velocidad del ventilador directamente a través de la salida del inversor. Finalmente, modificamos nuestro diseño inicial para añadir un pin de control para indicar "alta velocidad" o "baja velocidad", de modo que el convertidor alimentara los motores con el voltaje y la frecuencia adecuados (ambos programables), ahorrando así costosos componentes adicionales.